The UK HealthCare Simulation Center is a state-of-the-art multidisciplinary training and research facility created to advance patient safety by educating today's students and tomorrow's healthcare leaders with the most advanced simulation technology and experiential learning in alignment with established medical curricula and enterprise goals.
Simulation complements traditional teaching modes with experiential learning for undergraduate and graduate medical education and hospital populations to improve skills, teamwork, communication, and safety through training, research and innovation.
The center occupies approximately 6,000 square feet on the second floor of Chandler Hospital.
Facilities
Facilities include:
Three patient rooms, Intensive Care Unit, Operating Room, and a Flex Room with high fidelity patient simulators for complex clinical scenario training.
Large Debriefing Room, for private, psychologically safe areas for reflection and self-critique.
Multipurpose Room for individual and team-based skills task training and medical exam practice.
The center features state-of-the-art audiovisual equipment with recording and playback capabilities, four 80" LG display screens and in-room flat screen displays for simulation education and playback.
Rooms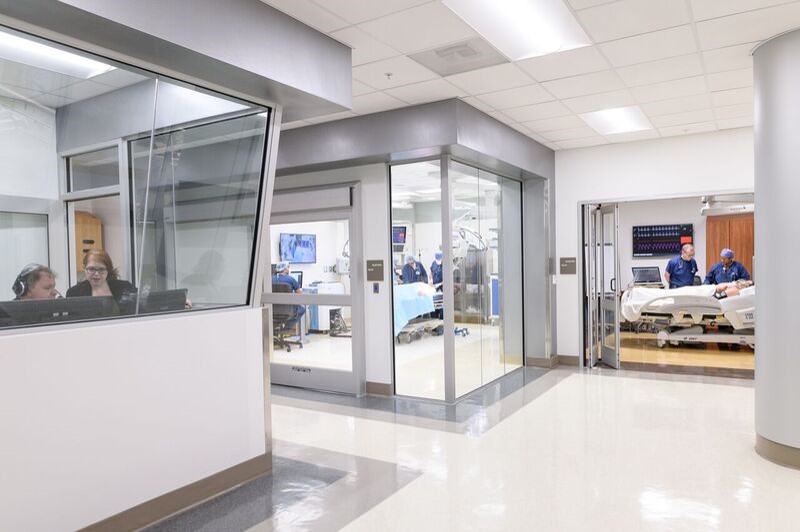 Acute Care Rooms (Sim 1-3)
Simulated patient rooms styled after Chandler Hospital Pavilion A patient rooms equipped with patient monitors that show real-time simulated patient vitals based on simulated clinical scenario.
Intensive Care Unit (ICU) Room
Simulated ICU room styled after Chandler Hospital Pavilion A equipped with cameras, microphones, and speakers for recording and playback debriefing of simulation scenario.
Operating Room (OR) Suite
Simulated operating room accommodates the practice of crisis-resource management, critical thinking, communication and teamwork.
Control Room
Command center where simulation scenarios are monitored and remotely controlled using sophisticated equipment to capture patient simulator statistics for debriefings.
Debriefing Room (large conference room)
Instructors and learners review simulation scenario video in these rooms to discuss their simulation practice in order to explore, analyze and synthesize their thoughts and actions.
Multipurpose Room
A multi-functional training space designed for simulation skill practice, group training and continuing medical education (CME) courses with large monitors and exam tables for physical exam and task training.
Simulators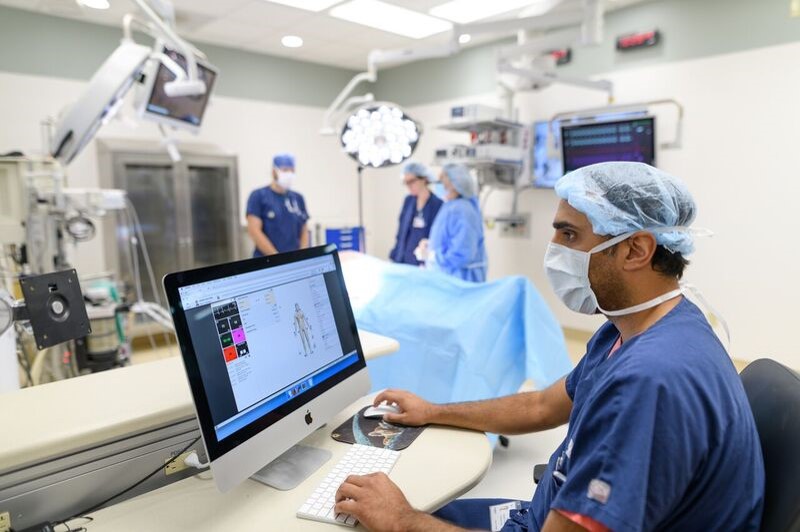 SimMan3G (Operating Room)
SimMan3G is a durable patient simulator created for high-quality simulation training in a multitude of different medical procedures and patient cases. SimMan3G is able to display a wide range of physiological and neurological symptoms as well as pharmacological responses for over 145 drugs.
IStan (Intensive Care Unit)
Originally designed for the military with wireless functionality and on-board fluids for flexible, mobile training; includes upper airway designed from CT scan data of a real human patient.
PediaSim ECS (Sim 1)
Realistic reproduction of a 6-year-old child provides advanced pediatric simulation training for pediatric emergency and critical care.
Apollo (Sim 2)
Stunningly real aesthetic, designed for medical and allied health education in a prehospital patient configuration featuring wireless and tether less for mobile training.
Lucina (Sim 3)
Obstetric simulator that allows for practice of pre-partum assessment, labor, delivery, post-partum emergency care and transport that responds automatically to multiple obstetric maneuvers and clinical interventions.
---
Location and Contact Information
Email: ukhcsimcenter@uky.edu
Phone: (859) 218-7999
UK HealthCare Simulation Center
Albert B. Chandler Hospital, Pavilion H
800 Rose Street, 2nd Floor, Room HA.02.244
Lexington KY 40536